The second annual U.S. Poker Open will return to the PokerGO studio at the ARIA Resort and Casino in Las Vegas from Feb. 13-23, Poker Central announced today.
Along with the other Aria high roller series, the Super High Roller Bowl and the Poker Masters, the U.S. Poker Open marks the second leg of the "High Roller Triple Crown." Championship points will be awarded throughout the series for deep runs, and the player that finishes with the most points will receive a bonus $100,000 reward put up by Poker Central, in addition to the coveted trophy up for grabs.
2019 U.S. Poker Open Schedule Highlights
The expanded ten-event series will feature four $10K events, four $25K events, a $50K and the addition of a $100,000 Main Event that will kick off on Feb. 22. The schedule is also spiced up with two Short Deck events in addition to the standard no-limit hold'em and pot limit omaha events. The $10,000 and $25,000 buy-in Short Deck events will take place on Feb. 16 and 20, respectively.
The prestigious tournaments will be streamed exclusively on the OTT streaming platform PokerGO, with original episodes to air later on NBC Sports Network.
In last year's inaugural U.S. Poker Open, Stephen Chidwick cashed in five and final tabled four of the eight events, winning two back-to-back $25K events (No-Limit Hold'em and Mixed Game Championship), and finishing runner-up to David Peters in another $25,000 No-Limit Hold'em. In addition to $1,256,650 in earnings for the series, Chidwick captured the first-ever U.S. Poker Open title and trophy.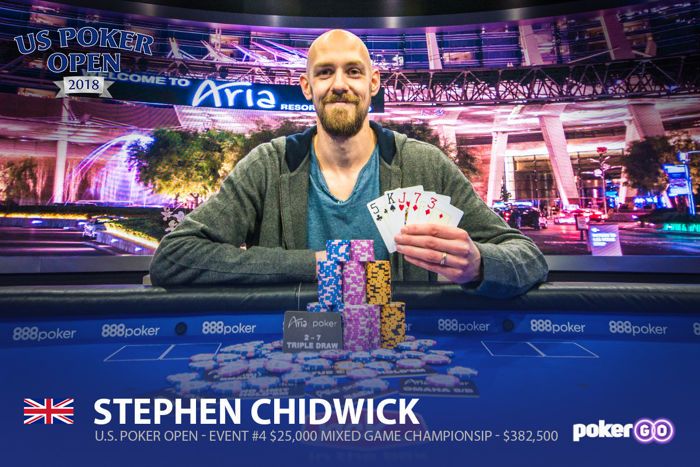 "The U.S. Poker Open, and the trio of high roller majors including Super High Roller Bowl and Poker Masters that comprise the High Roller Triple Crown, further solidifies ARIA as the epicenter of high-stakes poker action," said Sean McCormack, director of poker operations for ARIA. "We will continue to bring our guests the most player-friendly poker events in the industry with our Poker Central partnership firmly in place through the foundation of the PokerGO Studio."
"THE ENTIRE SERIES WILL SERVE AS A FITTING KICKOFF TO A YEAR OF EVEN MORE WORLD-CLASS LIVE EVENTS AND ORIGINAL PROGRAMMING THAT POKERGO SUBSCRIBERS WILL LOVE."
Aria continues to be a prime venue for high roller action, and with the new state of the art PokerGO studio, fans can watch all the action from home through Poker Central. Vice president of content at Poker Central, Sam Simmons, is happy to continue with their successful partnership with Aria.
"The turnout across each phase of the High Roller Triple Crown continues to impress and, with the next U.S. Poker Open champion receiving a cash award of $100,000, we're expecting that trend to continue," Simmons said. "The entire series will serve as a fitting kickoff to a year of even more world-class live events and original programming that PokerGO subscribers will love."
2019 U.S. Poker Open Schedule
| Date | Event |
| --- | --- |
| February 13 | Event #1: $10K No Limit Hold'em |
| February 14 | Event #2: $10K Pot Limit Omaha |
| February 15 | Event #3: $10K No Limit Hold'em |
| February 16 | Event #4: $10K Short Deck Hold'em |
| February 17 | Event #5: $25K No Limit Hold'em |
| February 18 | Event #6: $25K Pot Limit Omaha |
| February 19 | Event #7: $25K No Limit Hold'em |
| February 20 | Event #8: $25K Short Deck Hold'em |
| February 21 | Event #9: $50K No Limit Hold'em |
| February 22 | Event #10: $100K No Limit Hold'em Main Event |
Read more:
Source:@ PokerNews